MotoGP weekend: Kid in a candy store.
UPDATE: Extra photos added..
Asked some months ago whether I would be interested in "doing a few comments"* for "some radio station" by
RAPID
magazine editor Jeff Ware, I naturally said yes.
The station turned out to be Melbourne's
3AW
, the highest rating talk station in Melbourne. I was to provide an undisclosed/undecided/unknown amount of "expert"* input to the event.
Much. Research. Ensued.
Sports Today
" show with Gary Lyon and Dwayne Russell. I personally thought this went fairly well- though my sister did SMS me to say "good- but S L O W it down a bit." Done!
On the Friday, more research and checking and so on. Ready? Maybe.
Heading down to Phillip Island on Saturday morning with Mr Tricky - in a van instead of riding- I had to do some rather annoying ringing around once I had established that I did not quite have all the media accreditation that I thought I had.
On arrival I find, much to my relief, everything sorted. A green media pass, car pass and media kit ready to go.
The media area was, given I have no benchmark, huge:
While 3AW were not broadcasting from the Island itself until Sunday, they asked me (during the series of calls on Saturday morning) if I could do a cross to the Saturday Sports show at about 5:30. I spend much of Saturday analysing results, comparing times, temperatures and ...other things. In the end, their regular sports reporter does the crosses, but the information I had gathered would prove invaluable on race day.
I see a lot of motorcycle racing legends during the day: Randy Mamola was a favourite and of course this bloke: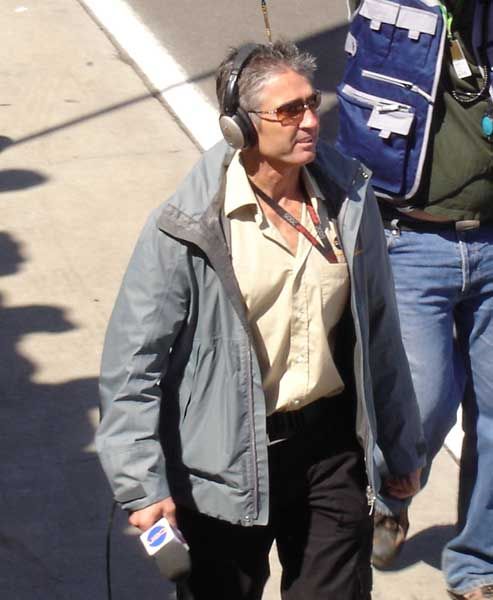 I think his name is Mick Doohan.
Probably.
Saturday night is rather restrained. I'd had a big night on Friday, so after Pizza and a few beers, Tricky and I retire about 11pm.
Sunday dawned in a picture of rare perfection- a cold night, but the air was clear, sun out and little breeze. Bacon n Egg roll with a coffee, zoom out to the track, walk around like I own the place. Morning warm ups vs Grid position comparo done, I meet up with 3AW hosts Clinton Grybas and Dwayne Russell along with producer Mark Davidson and Bob the techie.
The Kawasaki girls were extremely well mannered and knowledgable. Like it matters...
At this stage, I was non the wiser about what or when I was doing things. We sort out that situation and at 12pm the boys hit the air. The 125s were busy running about while the 3AW lads do their opening segments.
The 250s are well featured as Aussie Casey Stoner is shooting from pole position for a shot at the title. Three races left, 26 points in arrears. I get lots of on air time for the start and then, on lap four, Casey falls off. I'm lucky enough to be watching the monitor at the time and am able to give a blow by blow description of the incident.
I then do a runner into the pits where I bump into Honda factory Rider Josh Brookes. (who got punted off the track by a repentent Mr Krusty Fergusson the day bedore) After introducing myself and I then do my first ever live cross and interview on air. It goes well, with Josh offering us insight into the corner where Casey went rubber side up. I know the corner well myself and we hopefully put across the story well.
In the break between races, I wander about to see where the riders will be and where I might be able to get interviews afterwards. I meet some girles: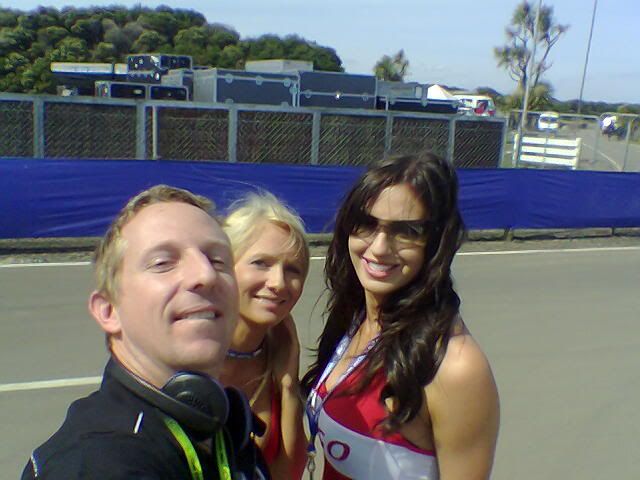 I then bump into a famous rider
(tm) and the
the following takes place:
Me to 1987 World Champion and Fellow RAPID contributor Wayne Gardner:
"Hi Wayne, I'm Tom Reynolds, I'm the new contributor to Rapid..."
Wayne:
"Yeah, I know... I recognised you. Good job"
Me:
"...!"
So naturally I ask if we can get this: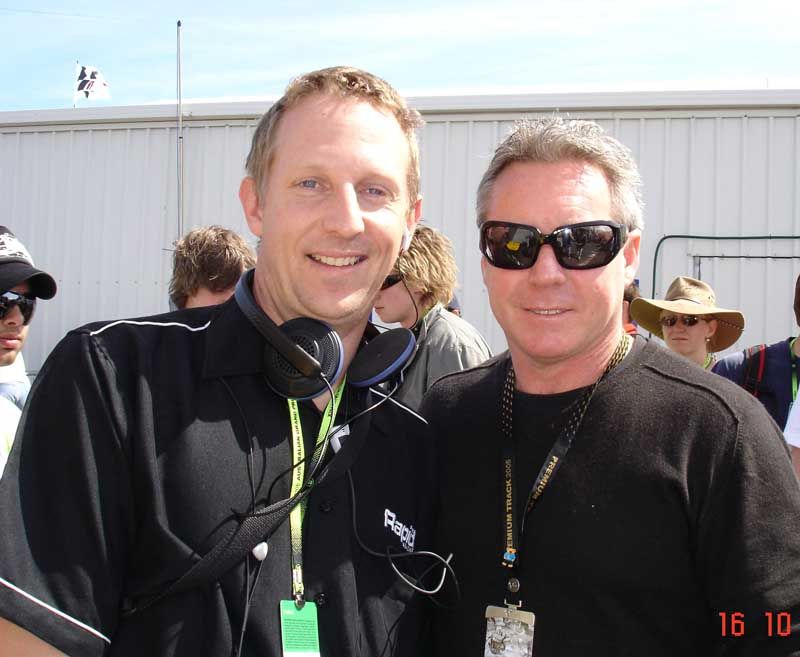 ...and we do. We agree to catch up later. Sadly I am too busy for the champ. I'll get my people to call your people...
I have just enough time before the race to sneak out and get a look at the riders doing their parade lap. Camel Honda team "guest" rider, Aussie World Super Bike rider Chris Vermuelen (replacing injured fellow Aussie Troy Bayliss) was hopping into a car right under me. "CHRIS!" I call out, while giving the thumbs up, while aiming my camera at him. I get a thumbs up in return: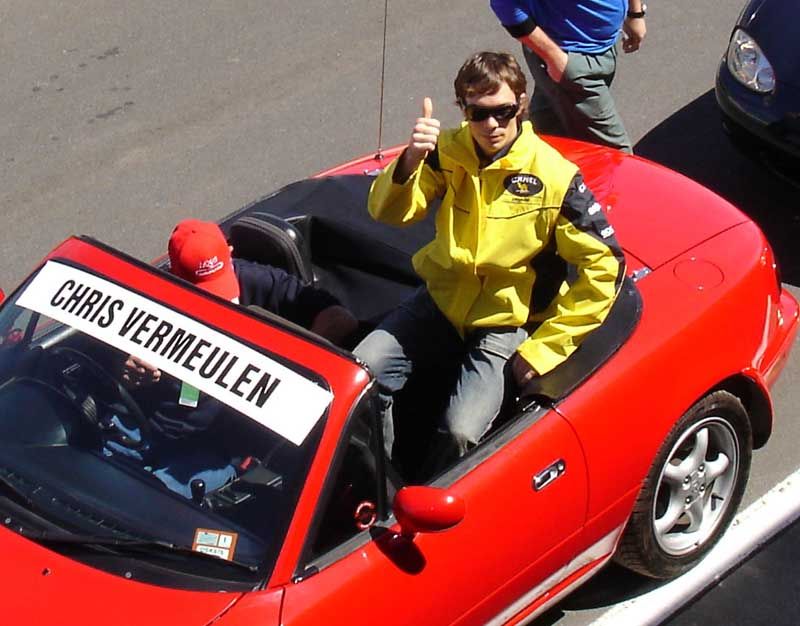 New best mate and
other
factory Honda rider Adam "Krusty" Fergusson joins us in the commentary box for the MotoGP event. We're going to cover the race end to end - no ads nor news break. It's very exciting as a race- and exciting for me as I get to sit in and continue to offer my "insights"*.
The race starts and we bounce around madly, me offering insightful comments*, Krusty telling us technical and rider info with Dwayne and Clinton doing an excellent job all round. It's good stuff, and really, really good fun.
The race ends, and I get out 'n about with the radio mic. I see Yamaha chief mechanic and genius Jerry Burgess (pictured right with Wayne Gardner) and ask for an interview. He agrees. We go on air and he kills me. I get a stat wrong and he pegs me for it. He's good, but I can't get anything out of him. I join a loooong list of other people who have interviewed Jerry to no avail- but I'm not done yet.
Chris Vermuelen has placed 11th, after getting as high as 10th. It's a pretty good result for a rookie.
Vermuelen racing.
I lurk around trying to get something going. Casey Stoner has done his one and only interview for the day, so I'm fresh outta luck. Running, running, running.
I manage to get someone from the Camel Honda squad and ask if I can interview Chris. The big radio mic with 3AW across it opens doors. It's remarkable. I get shown right into the pit (after dragging my "assistant" Tricky along). Fortunately, the radio mic coverage is appalling in the metal roofed pit, so we head outside. I tell them I am ready, the interview commences and away we go: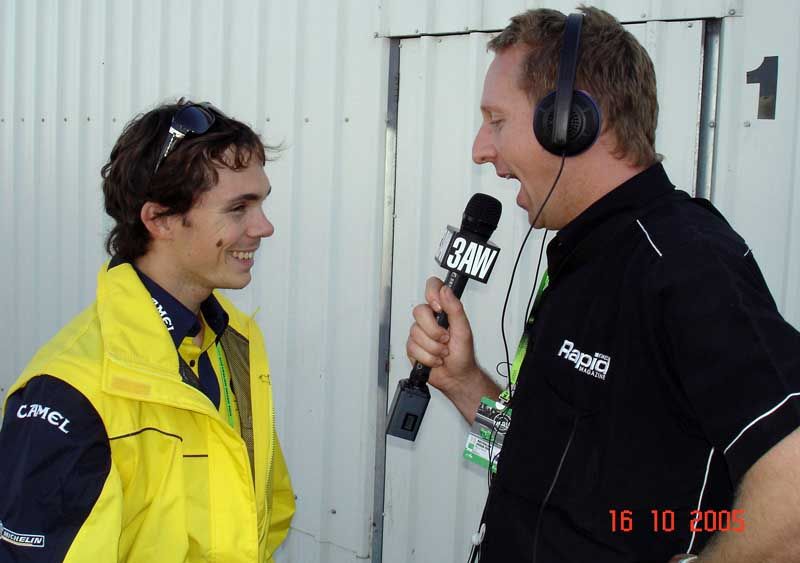 I think the smile is in response to me saying "I think the uniform suits you. Wear it next year..."
A crowd begins to gather when they see Vermuelen. I sense this, and so at the end of the interview I say words to the effect of "I'm sure everyone here joins with me in congratulating you on your efforts ... Everyone?"
A huge cheer goes up, I cross back to the studio to Clinton saying "Great stuff" I'm stoked, the 3AW crew is stoked, Tricky thinks it's my finest moment and I fell pretty fine too.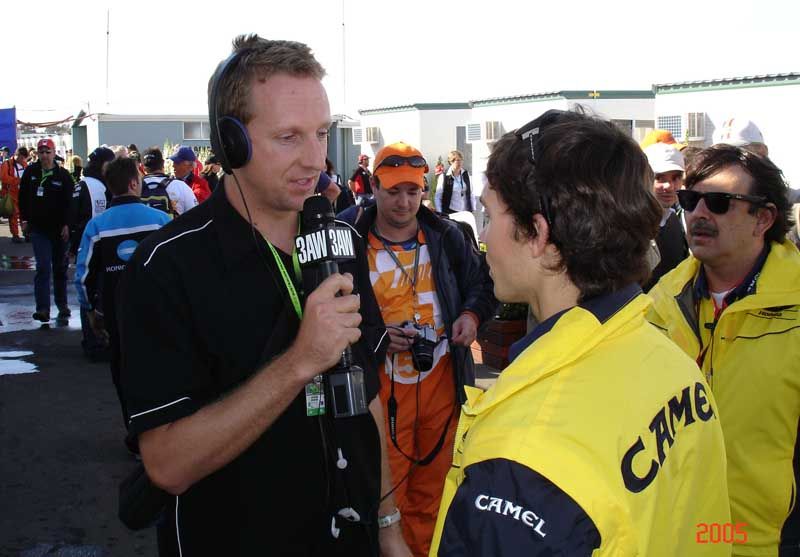 Crowd gathers, thomasr seconds away from getting them in on the action.
The last act is a beauty. We go upstairs, I walk straight into Rossi's longer press conference and take the following pic:
I consider asking a question, but, frankly can't think of one. I just sit there and enjoy it.
The interviews over, Rossi starts signing a few posters. I slap two copies of the latest RAPID down (with my article in it!) and Rossi signs 'em both. ZING!
Tricky gets inspired and attempts to get Rossi to sign the cast he currently has on his arm.
You decide how that went....:
:)
Interviews and goofing off done, we hit the car park, the road, Cranbourne and beyond. Three hours to get home.
Still buzzing a day later!
* Making stuff up
Some pics courtesy of MCNEWS.com.au Much thanks
posted by thr at 5:38 pm