Never too old or slow!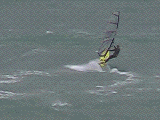 Forward Loop, 13th Beach, Barwon Heads, 8th October, 2005.
In a past life, I was a reasonable windsurfer. Never great, but pretty good. I began teaching for RPS The Board Store, then progressed to become a Master Instructor, then retired from the teaching caper to just try and enjoy it all again. I don't sail as much as I should, but summer is around the corner, and I'll be back out there again.

The trick you see above is one I have been doing for nearly 13 years. When I first started nailing forawrds, I was King O The Kids. Nowadays it's a bit old hat. There are variations and add-ons and spinny moves that I am never ever going to do. As Wooz would say "You can't beat a big end over forward".
posted by thr at 10:24 am