NT/QLD border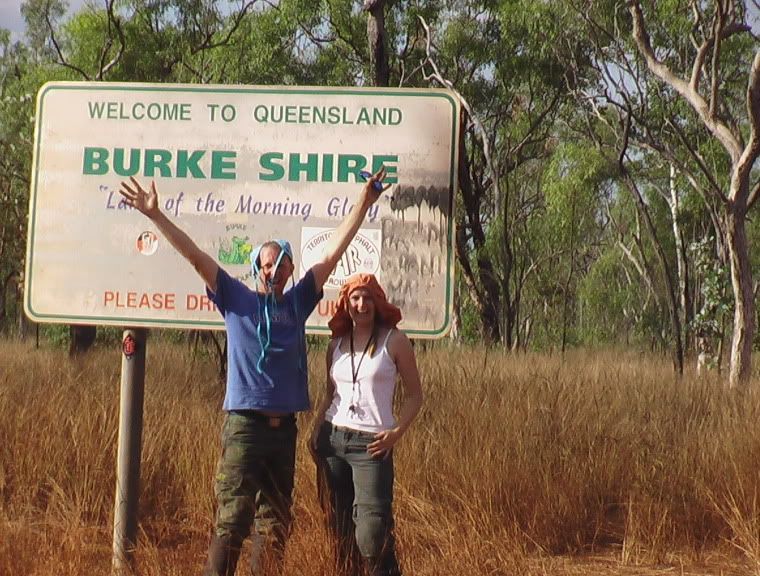 Yes, the bikini top and the Jim Jams pants made it across the Savannah Way.
It's not a real tough trip- but a good warm up for the hell of the Telegraph Track (Cape York)
Stuff:
- We missed Roper bar just to avoid 100k's of unknown dirt (we knew it was THERE, we just didn't know what it was like)
- The road was at times, sandy, rutted, corrugated, gravel and various combinations of these.
- The sandy patches meant we often parked the bike (when having a break)in the middle of the road to ensure it didn't fall over. The long roads made one bloke slow down coz he "thought it was a horse". I think he was drunk.
- One couple were so impressed/amazed/freaked they stopped, took a pic, then took a polaroid of us and gave it to us. Will scan later.
- First river crossings- easy. Hilarious video of Rachel (her filming) begging to be dropped off and allowed to walk it. Ego maniac at the controls assures her it will be ok. He's right and the ego gets bigger still.
- The Burketown pub has a white and a black bar. As in your
skin colour
. In 2005. We did not go there to change the status quo, and as a result, had one drink in the white bar and left.
Weird
. - Karumba has more grey nomads that grains of sand. One old fella caught a HUGE (20 kilo!) Jew fish and gave us two HUGE fillets- fantastic!
- At Mt Suprise there is a flintstones themed Caravan park, and in said park, you can get a guided tour of the bush and stuff from a verbose, clever, excellent 8 year old guide. Truly.
posted by thr at 7:20 pm